FREE Tyler Warren RPG Battlers Favorites (30)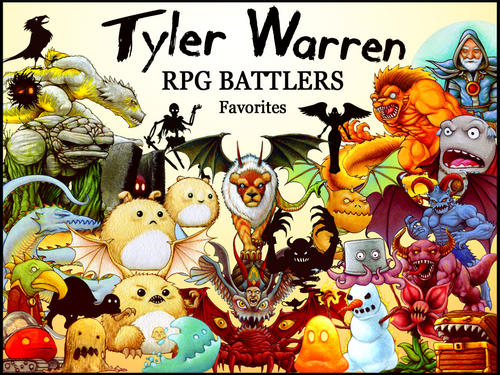 I assembled this sampler pack of 30 to help introduce people to my art style and present some of my own favorites from the library of 300+ monsters. It is my pleasure to present for your use this collection of my personal favorites from across my multiple packs. As new packs are created, I will add samples to this pack as well.
Some of my story goes like this: I was heavily influenced by the Dragon Warrior (quest) series when it first came out in the 1980s. The art, the playstyle, the leveling up and the hidden items and the Nintendo Power guide book with poster and world map! So awesome! Everything about the exploration of a fantasy world full of comic monsters, adventures, quests, dragons and so on, was something I fell in love with. I played the NES/SNES Dragon Warrior and Final Fantasy series for countless teenage hours. I used to draw out maps on graph paper, and sketch little monsters, recreating game elements on paper. I always aspired to making my own game. I still use paper/pencil for my artwork, so each of my monsters, before it goes into the computer has an original hard-copy counterpart.
While in college, (studying Economics about 2005) I made my first real attempt at creating a full RPG game. In addition to the artwork, I was trying to learn the C# programming language. I failed at making my game, but as a positive side effect I had created a large amount of graphic assets to go into the game. Several years passed and I had basically written off my RPG project as a loss, until I came across RPG Maker. It was exactly the tool I was looking for. Finding my time was too limited to successfully finish my own epic RPG game (secretly still in the works...somewhere), I reached out to RPG Maker through the forum to see if I could offer my battler art to other game makers. Long story short, I've had a fantastic time creating battlers for the RPG
Maker community and hope you enjoy using them in your next project.
Files
Tyler Warren Favorites - Free.zip
9 MB
Mar 27, 2018
Get FREE Tyler Warren RPG Battlers Favorites (30)